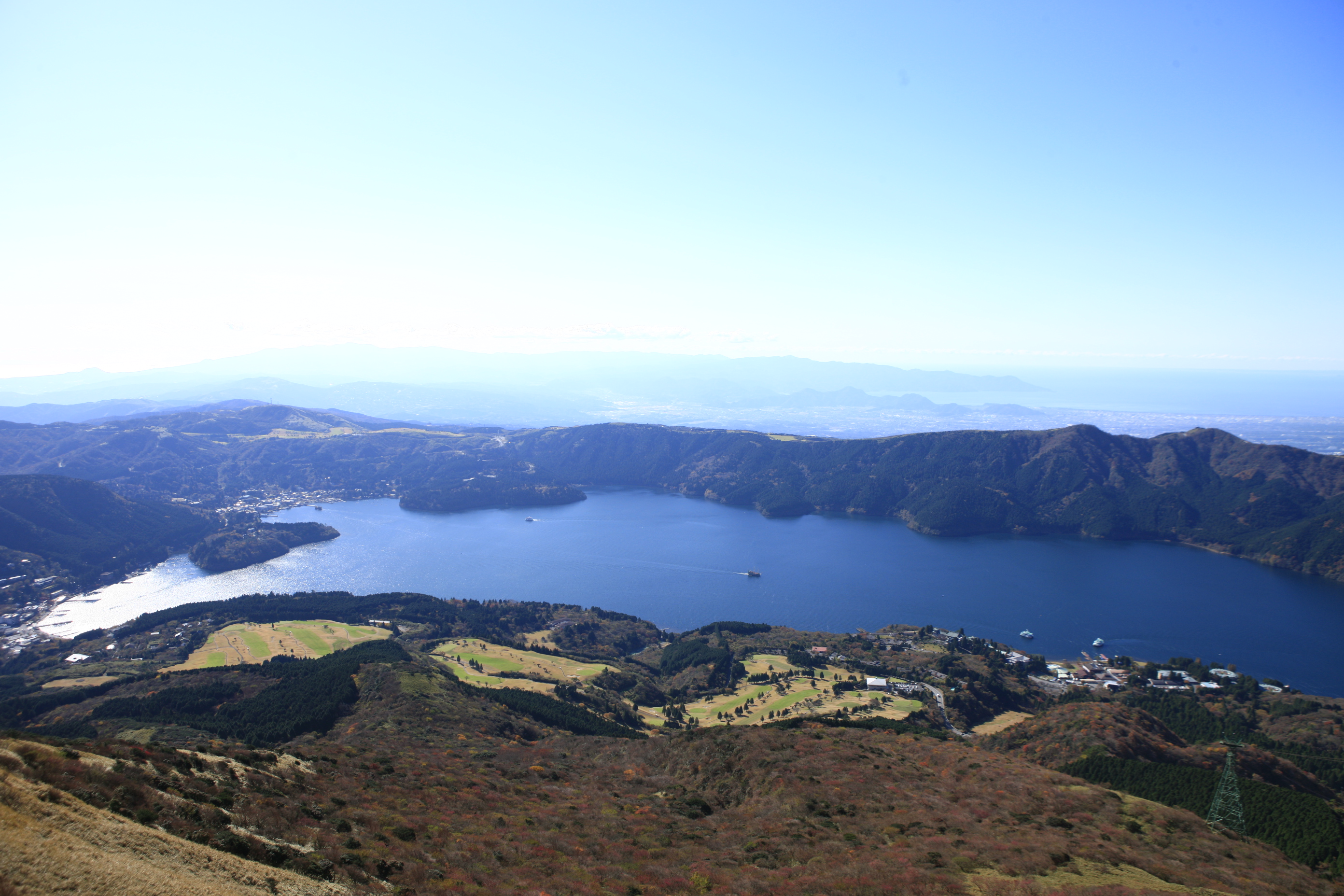 Lake Ashi
Lake Ashi, one of Japan's largest caldera lakes, was formed when Mt. Kamiyama, Hakone's highest peak, erupted and blocked the flow of a river. The age of the trees buried by the volcanic ash indicate that this eruption happened about 3,100 years ago. Most of these trees were Japanese cedars, some of which measured two meters in diameter. In the Edo era, these trees were used for yosegi marquetry, a local handicraft.
Lake Ashi is the symbol of Hakone, and there are many tourist spots and restaurants around the lake. What's more, on clear days, there are many vantage points where you can see Mt. Fuji in the distance. One of the most popular tourist spots with shutterbugs is Hakone Shrine, which features a large red torii gate in the lake.
There are two leisure boats you can ride to get a view of the torii from the water.
The Hakone Lake Ashi Leisure Boat Cruise, which began in 1961, uses catamarans. You can enjoy the scenery of Lake Ashi through the large windows on the boat or walk out on the deck for a 360° panoramic vista. There is regularly scheduled service between four ports on the lake, Hakone Sekisho-ato Port, Motohakone Port, Hakone-en Port, and Kojiri Port, and you can also enjoy shorter cruises that depart and return to the same port. Every month on the 13th, there is additional service from Motohakone Port to Kuzuryu Shrine, where people go to pray for good fortune in love. The cruise affords direct access to the shrine, which you typically need to walk about two km to get to.
Meanwhile, the Hakone Pirate Ship Cruise features three pirate ships—Royal II, Victory, and Vasa—modeled after 18th and 19th century European sailing ships. The ships sail between the ports of Togendai, Hakonemachi, and Motohakone. When you are on board, you can also take your photo with staff dressed as pirates. If you are visiting by train, the best way to get around is the one-day pass that grants access to both the Hakone Ropeway and the pirate ship.
■ Hakone Lake Ashi Leisure Boat Cruise
Tel.: 0460-83-6351
http://www.izuhakone.co.jp/hakone-yuransen/
■ Hakone Pirate Ship Cruise
Tel.: 0460-83-7722
http://www.hakone-kankosen.co.jp/index.php