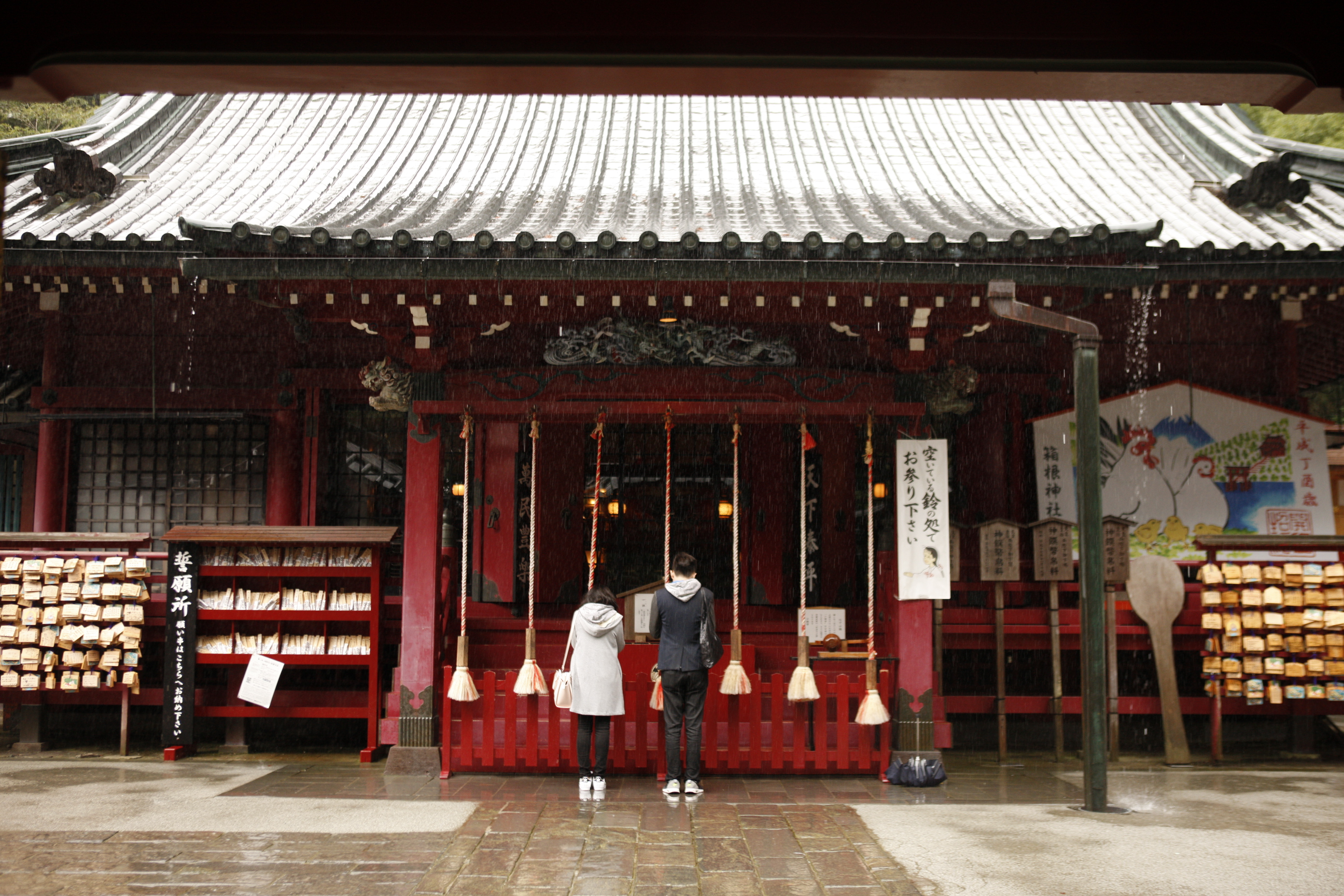 Hakone Shrine
The entire Hakone area is said to be the foremost power spot for spiritual energy in the Kanto region, and Hakone Shrine is at its very center.
Mt. Kamiyama, the highest peak in Hakone, used to be worshiped as a sacred mountain and Hakone Shrine traces its origins back to a shrine built on the summit during the Nara period. Many warlords, including Minamoto no Yoritomo, embraced Hakone Shrine as the overall guardian deity for Kanto. Over time, people traveling along the Tokaido Road also came to worship at this shrine, and today as well it attracts many visitors.
Three gods are enshrined as the Great Deities of Hakone: Ninigi-no-mikoto, Konohanasakuyahime-no-mikoto, and Hikohohodemi-no-mikoto.
The main approach to the shrine is lined by giant cedars. As you ascend the stone steps, the main shrine, built in the gongen-zukuri style, appears. This is a tranquil space, so please maintain a quiet demeanor during your visit.
The vermilion-lacquered Heiwa no Torii ("Gate of Peace") standing on the shore of Lake Ashi was erected in 1952 in honor of the present emperor's ceremonial investiture as Crown Prince. If you get close to the gate that towers above the water, you will be surprised at how big it actually is!
Hakone Shrine's Inner Shrine, known as Hakone Mototsumiya, can be reached from Chojo Station on the Hakone Komagatake Ropeway. It is believed to be beneficial if, along with your visits to Hakone Shrine and the Inner Shrine, you pay a visit to the original Kuzuryu Shrine from which they stemmed. Kuzuryu Shrine is visited by many women as it is believed to bring luck in finding a romantic partner.
Additionally, the Kuzuryu Shrine Shingu ("new shrine") is located within the precincts of Hakone Shrine, so be sure to visit here, too.
Address: 80-1 Motohakone, Hakone-machi, Ashigarashimo-gun, Kanagawa Prefecture
Tel.: 0460-83-7123
Open: Visitors may enter the shrine's precincts freely at any time.
Access: Take the bus bound for Hakonemachi Port from Hakone-Yumoto Station and get off at the Hakone-jinja-iriguchi bus stop.
Parking:
Official homepage http://hakonejinja.or.jp