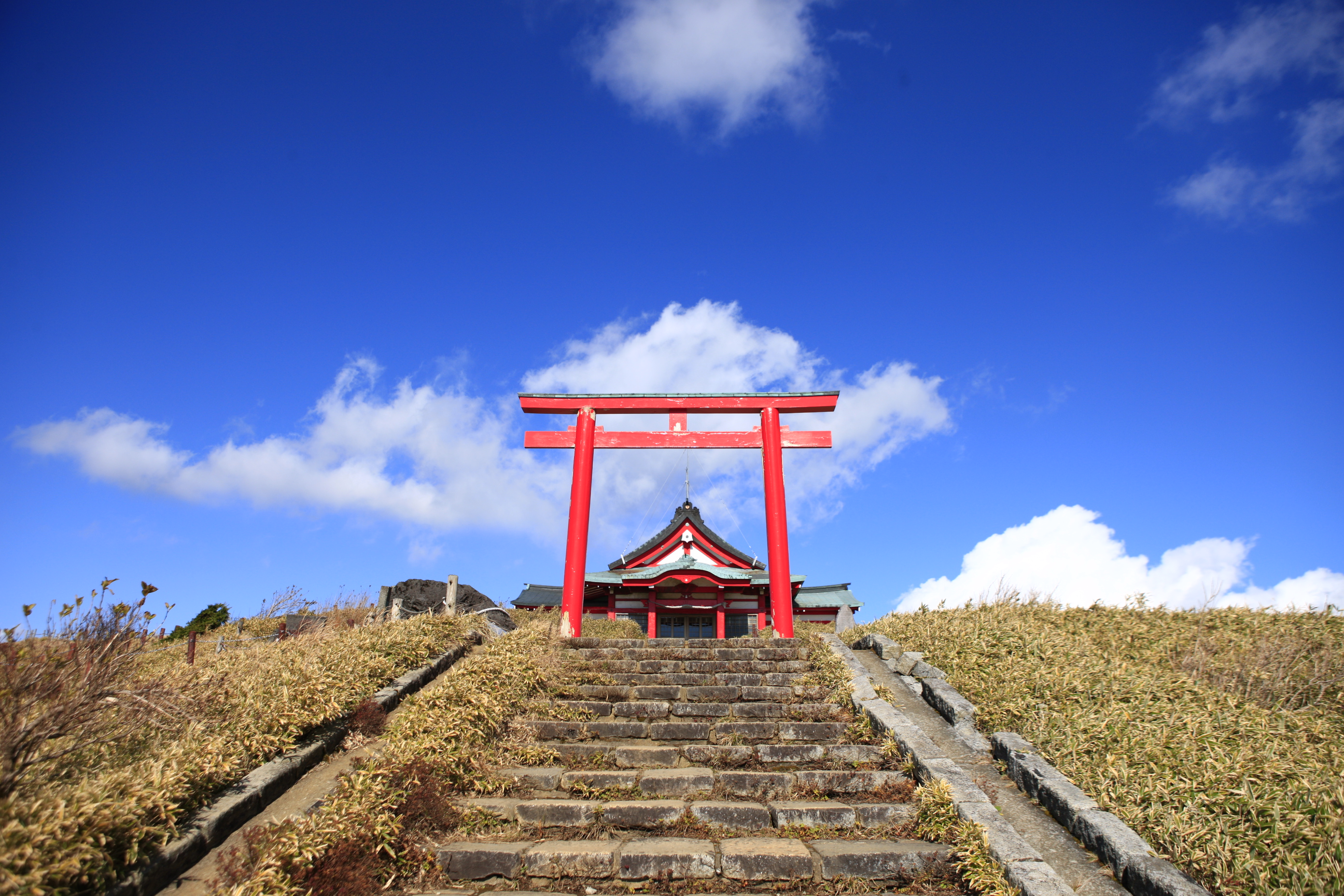 Hakone Komagatake Ropeway
The ropeway connecting Hakone-en on the shore of Lake Ashi with the summit of Mt. Komagatake takes seven minutes. Needless to say, looking down from the summit you get a magnificent view of Lake Ashi below. Take a 20 to 30-minute stroll, and you can circle around past the Mt. Fuji Lookout, where you can gaze out over Suruga Bay, Mt. Fuji, and the Southern Alps, and the Sagami Bay Lookout, which affords a view towards Odawara and Shonan.
Along the way, about five minutes from Chojo Station, you will come upon Hakone Mototsumiya Shrine.
In ancient times mountain tops were objects of worship, and in this case, Mt. Kamiyama, the highest peak in Hakone, was revered. Because Mt. Komagatake looks out at Mt. Kamiyama, it is said to have been consecrated as sacred land about 2,400 years ago. Ever since then, many people have come to Mt. Komagatake to climb and pray given its stature as the foremost sacred ground in Kanto.
The current structure of Hakone Mototsumiya Shrine was rebuilt in 1964. Because this is a place for worshiping Mt. Kamiyama, there is only a worship hall without a main shrine building. Since this shrine is built atop a mountain without anything to obstruct your field of vision it is also called Heaven's Shrine, and the view it affords is truly impressive.
Typically, the ropeway operates from 9:00 – 16:50, but a few times a year, it also runs at night for the Starry Skies & Nightscape Night Tour. In the fall of 2017 this Night Tour will operate daily from October 27 to November 30. With the clear autumn skies, you can enjoy a 360o panorama of the starry skies and the surrounding night landscape.
Address: 139 Motohakone, Hakone-machi, Ashigarashimo-gun, Kanagawa Prefecture
Tel.: 0460-83-1151 (Hakone-en)
Fare: ¥1300 round-trip (Starry Skies & Nightscape Night Tour: ¥2000 round-trip)
Hours of Operation: 9:00 -16:50 (final descent; final ascent is 16:30)
Access: A 65-minute ride on the Izu Hakone Bus bound for Kojiri/Hakone-en from Hakone-Yumoto Station; get off at either the Hakone-en bus stop or the Prince Hakone Lake Ashi bus stop. 25-minute drive from Hakone-Honbako.
Parking: Use the Hakone-en parking lot.
Official homepage: www.princehotels.co.jp/amuse/hakone-en/ropeway/