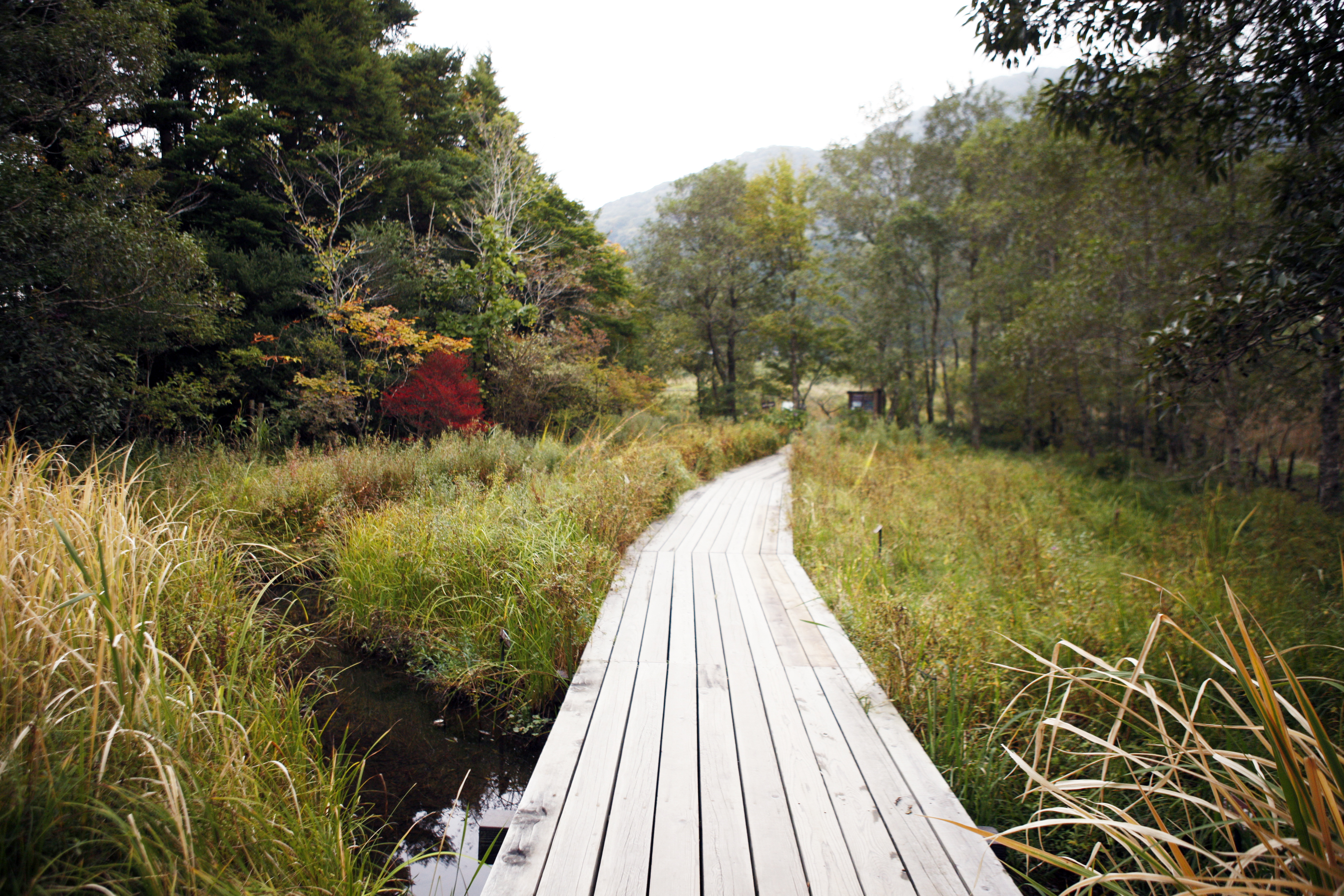 Hakone Botanical Garden of Wetlands
The Hakone Botanical Garden of Wetlands is located in Sengokuhara, which is known for its patches of wild silvergrass. Sengokuhara used to be the bottom of a caldera lake over 20,000 years ago, and part of this wetland, which is the only one that remains in Kanagawa Prefecture, has been designated as a Natural Monument by the national government.
Legend has it that Minamoto no Yoritomo, the first Kamakura shogun, stood in front of this vast plain and said, "If this area were plowed, it would yield 1,000 koku (sen-goku; one koku, the old unit for measuring rice, is equivalent to about 180 liters) of rice." Hence, this area came to be known as Sengokuhara.
The Hakone Botanical Garden of Wetlands was established to protect these wetlands and raise the people's awareness of them.   It was Japan's first botanical garden of wetlands, and it features around 200 species of wetland vegetation along with nearly 1,700 types of other plants including meadow, forest, alpine, and even non-native species.
Upon entering this massive park, the trail takes you from lower to higher elevation, as well as through the different stages of wetlands, so you can see the plants in the order in which they were planted. Deeper in the park, you will encounter wooded paths that wind through spacious wetlands, and at the far back end of the park sits a two-hectare experimental plot using for restoring natural vegetation. Here you can get up close and personal with some of the plants that grow inside the Sengokuhara Wetlands, which is off limits.
The botanical garden is open between March and November and closed during the winter months.
Starting with witch hazel and balsam in March and continuing with skunk cabbage, dogtooth violets, primroses, Miyama odaki, and daylilies, you can see a range of wetland and alpine flowers that bloom until September. In the fall, you can also see the silvergrass of Sengokuhara and the changing color of the foliage.
Address: 817 Sengokuhara, Hakone-machi, Ashigarashimo-gun, Kanagawa Prefecture
Tel.: 0460-84-7293
Season: March 20 – November 30
Open: 9:00 – 17:00 (Last entry: 16:30)
Closed: Open every day during the season
Admission: ¥700
Access: Take the bus bound for Kojiri/Togendai from Hakone-Yumoto Station; 8-minute walk from Sengoku Information Center bus stop.
Parking: Free
Official homepage:  http://hakonekanko.com