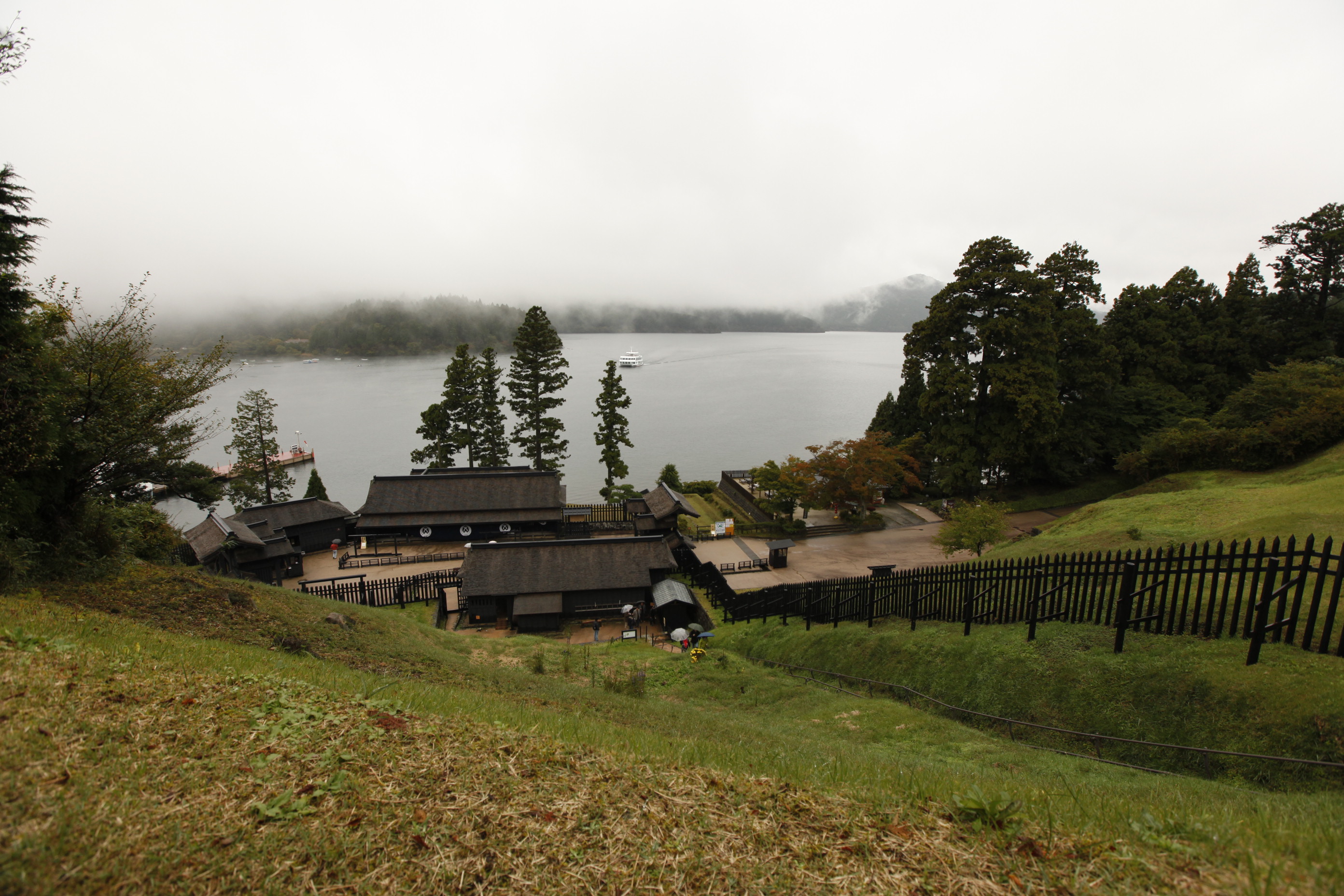 Hakone Sekisho
In the Edo era, Hakone was a choke point on the Tokaido Road that linked Edo (old Tokyo) to Kyoto, and the sekisho was a checkpoint used to monitor the passage of people and weapons. The Hakone Sekisho was one of the four biggest checkpoints in Japan.
Japanese people may recall from history class that the inspections at Hakone Sekisho were particularly strict to keep guns from entering Edo and prevent the wives and children of feudal lords from fleeing the capital.
After the end of feudalism, the checkpoint was dismantled in the Meiji era, but the discovery of a detailed report on the dismantling process undertaken in the late 1860s revealed what the original structure looked like.
After three years of excavation work starting in 1999, the Hakone Sekisho was rebuilt using original construction methods, and the fully restored checkpoint was opened to the public in 2007.
Based on documents from the time when Hakone Sekisho was in use, mannequins of the officials have been placed throughout the checkpoint; however, because scholars don't know what the people looked like or exactly how they dressed, the mannequins were left undecorated and painted a light gray color, so you can use your imagination to conjure up what it must've been like.
Enjoy a great view of Lake Ashi
If you don't enter the buildings, you don't need to pay admission, but we highly recommend that you go inside so you can visit the Lookout.
Located on top of a hill behind the checkpoint, the Lookout offers a great view of the checkpoint and Lake Ashi beyond. From this vantage point, you can see how the old roads were built to funnel into the checkpoint.
Also, if you take the path from the checkpoint toward the row of pine trees, you will find the Hakone Sekisho Exhibition Hall, which features displays of old tools and documents used at the checkpoint as well as equipment used by travelers. Admission is included in the price of the ticket for Hakone Sekisho.
Along the path to the Exhibition Hall are signs indicating spots where you can see Mt. Fuji beyond Lake Ashi when the weather is good. Unfortunately, when we visited, we couldn't see Mt. Fuji, but you should definitely visit Hakone Sekisho if the weather is good during your stay.
Address: 1 Hakone, Hakone-machi, Ashigarashimo-gun, Kanagawa Prefecture
Tel.: 0460-83-6635
Open: 9:00 – 17:00 (Until 16:30 between Dec. and Feb.; Last entry: 30 minutes before closing)
Closed: Never
Admission: ¥500 (for both Hakone Sekisho and the Exhibition Hall); elementary and junior high school students free on weekends and holidays
Access: Take the bus bound for Hakone-machi Port from Hakone-Yumoto Station; 2-minute walk from the Hakone Sekisho-ato bus stop.
Parking: None (Use a nearby commercial parking lot)
Official homepage:  www.hakonesekisyo.jp