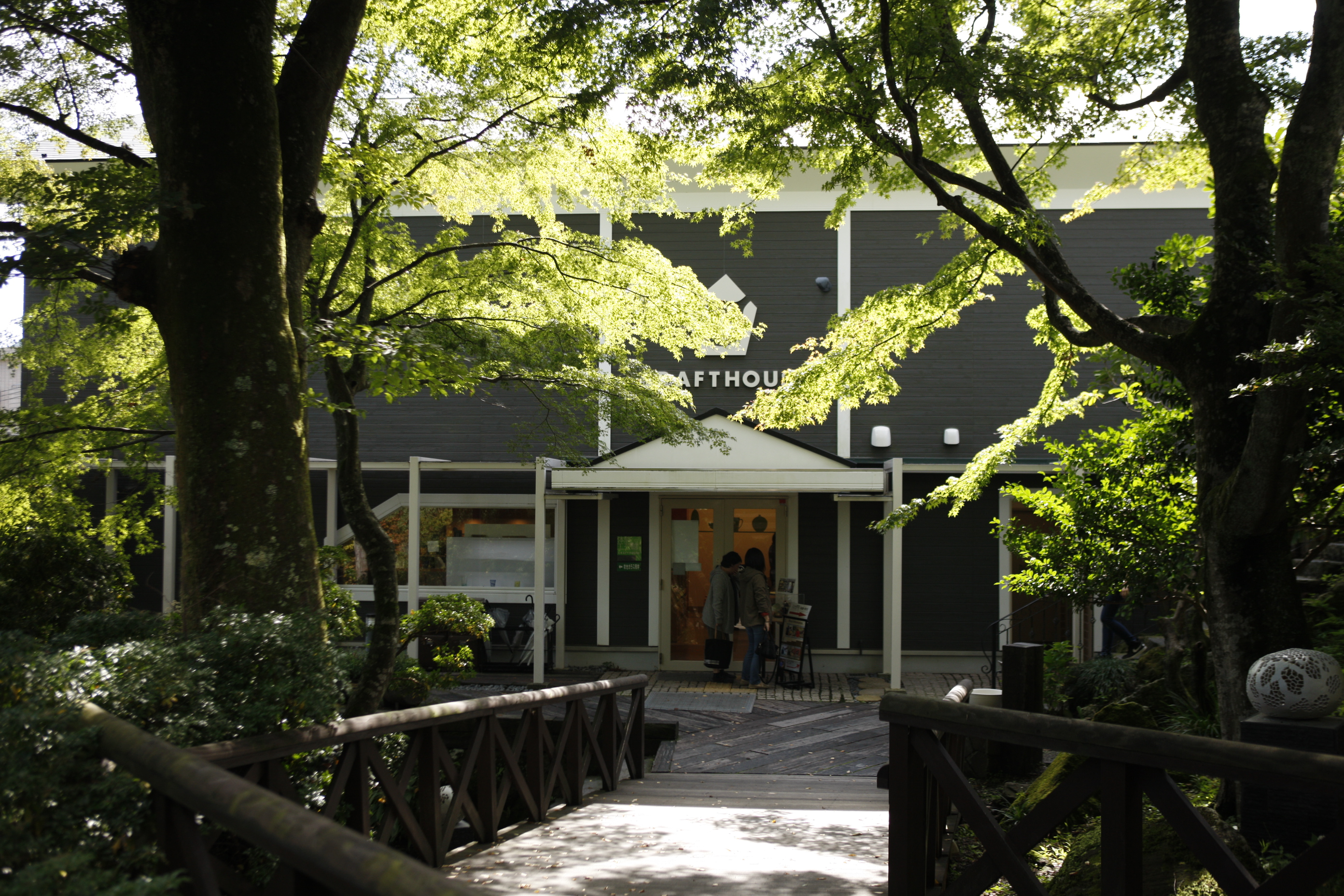 Located in Gora Park, the Hakone Crafthouse is where you can try your hand at seven different types of crafts, including glass, pottery and dried flowers. The contents of the experiences are varied. Young artists gather at the Crafthouse's studios and will help you with your creations as they teach.
In the glassblowing workshop (starts at ¥3,800), which the staff say even a child can do if they can blow up a balloon, the options include glass tumblers and mugs, large sake cups, vases, and so on. Depending on what you make, it can take as little as 15 minutes. What is more, you are free to make whatever you like: choices include six shapes each for glass tumblers and mugs, two types of sake cups, and so on.
The lampwork beads workshop is popular with women. In this session, you create lampwork beads from glass (¥2,500), which can then be made into your favorite accessory (additional fee starting at ¥470). You can create something in this activity in as few as 15 minutes, too. The lampwork beads require 50 minutes for cooling, so you will need to think about how you will arrange your time. Why not take a stroll around the park while you wait?
In the style beads workshop, which has received rave reviews from women in particular, participants create their own original bracelets using beads in a variety of colors and patterns (starting at ¥1,310). In addition to glass beads, there are metal and other ones as well. Overall, there is something like 100 different types of beads to choose from. You can also opt to make a metal or a leather bracelet.
Pottery is something to be enjoyed without haste. Choose between hand-built pottery or using an electric potter's wheel. In the hand-built pottery session you can make a bowl, mug, or beer stein. There is a large-items class, too, where you can make things that use about twice as much clay as a cup, such as noodle bowls, large plates, and vases. With the electric potter's wheel, together with the instructor's assistance, you can make things ranging from easy to craft small items, such as saucers, bowls and vases, all the way up to very large items. (The base fee for the electric potter's wheel is ¥2,900. There is also a firing fee of ¥900, depending on size of your item).
In the sandblasting workshop, stickers for cutting patterns are used to cover the glass. Sand is then blown against the glass at high pressure, and everywhere except for the places covered by the stickers is carved away, creating the design. You create your own original design by selecting whichever stickers you like (starting at ¥100) and attaching them to the vessel of your choice (starting at ¥2,000). Believe it or not, there are more than 100 stickers to choose from!
In the dried flowers workshop, in addition to making flower baskets (¥1,100) and wreaths (¥1,700) from berries and flowers, you can also make flower arrangements out of brightly colored and long-lasting preserved flowers.
You can register for and enjoy all these activities on-site on the day of your visit. While small groups cannot make reservations, one of the nice points about the Hakone Crafthouse is that, so long as it is not a busy time, even if you just drop by there generally is some "session you can do right away" available.
You do have to pay an entry fee for Gora Park, but there are restaurants and other attractions in the park, so we recommend that you spend the entire day relaxing in Gora area.
Address: 1300 Gora, Hakone-machi, Ashigarashimo-gun, Kanagawa Prefecture. Inside Hakone Gora Park.
Tel.: 0460-82-9210
Open: 9:00 – 17:00 (Last entry 16:30. Last sign-up depends on session content.)
Closed: Never
Admission: Gora Park admission fee: ¥550 for adults
Access: One-minute walk from Kōen-Shimo Station or Kōen-Kami Station on the Hakone Tozan Cable Car. Five-minute walk from Gōra Station on the Hakone Tozan Cable Car.
Official homepage: http://www.crafthouse.org