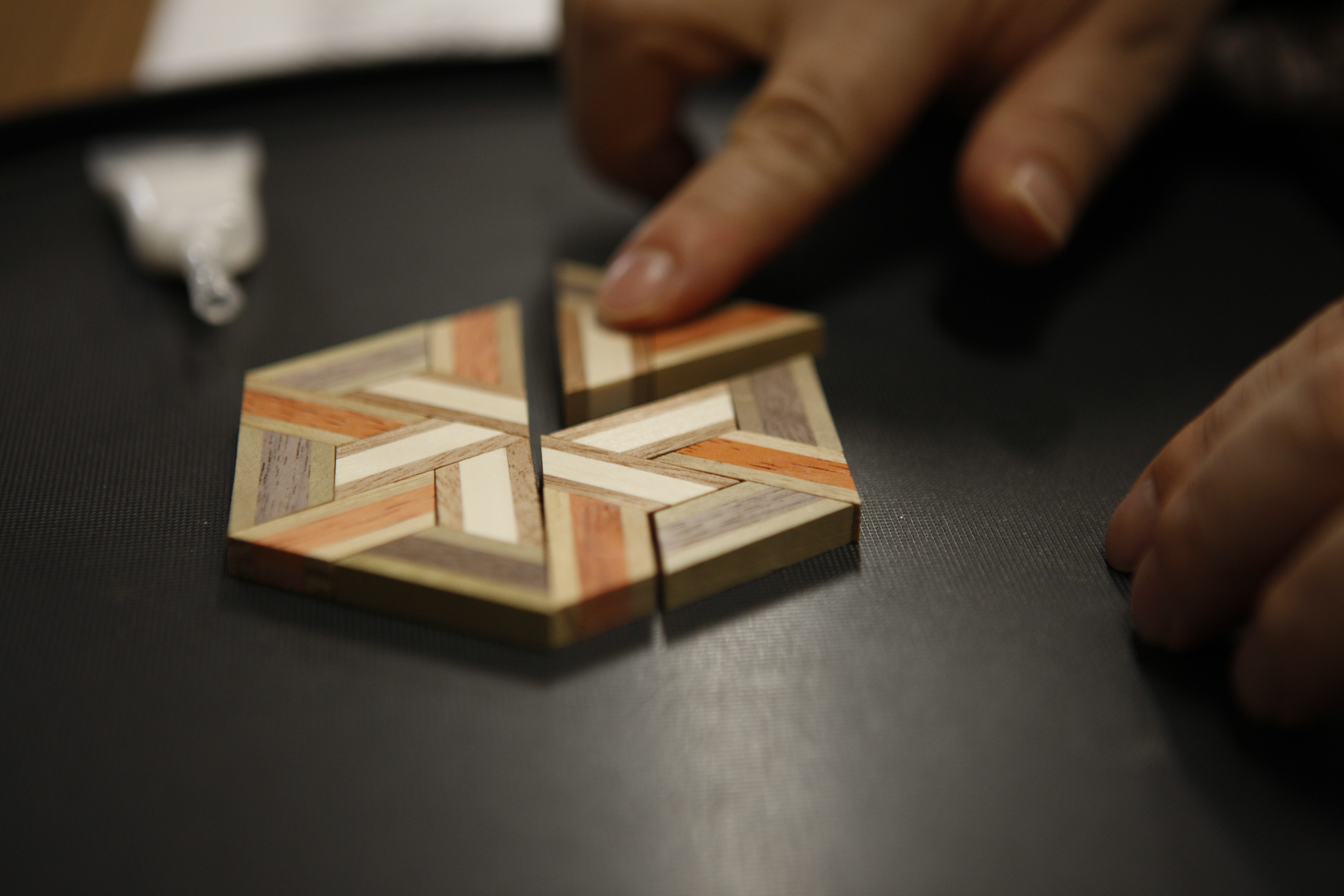 Hatajuku Yosegi Kaikan
When you go out to eat and drink in Hakone, you will see yosegi (traditional Japanese marquetry) everywhere. It is a type of mosaic work that matches the grains of different kinds of wood to create colorful patterns. It was purportedly conceived in the late Edo era by Ishikawa Nibei, a native of the Hatajuku area. He used trees cut from the mountains of Hakone and pieced them together by matching their natural grains. In the more than 200 years since the first yosegi was created, there are now about 120 patterns.
In 1984, the national government designated yosegi as a traditional craft, and Hakone Town established the Hatajuku Yosegi Kaikan to preserve the traditional technique.
The center features easy-to-understand exhibits on how yosegi is made and also gives demonstrations.
Originally, a special kind of plane was used to shave the pieces of wood, which were applied to wooden boxes with a glue made from gelatin. After the war, stronger adhesives were adopted so that thicker pieces of wood could be put together to create seamless yosegi pieces. This also led to greater variety in the patterns used and types of objects that could be made with the technique. In fact, the trophy for the Hakone Ekiden Road Race is made from seamless yosegi. This race is broadcast on New Year's Day, and while not many people may watch until the award ceremony, if you do, you will see the yosegi trophy. A model of the trophy, which was crafted at the same time as the actual one, is on display at Hatajuku Yosegi Kaikan.
If you need souvenirs, you can also buy chopstick rests, coasters, accessories, and eyeglasses cases at the gift shop.
Make your own yosegi coaster
You can also make your own yosegi coaster at Hatajuku Yosegi Kaikan. For ¥800, you can purchase a coaster kit and an instructor will show you how to make it. Each kit comes with six pieces (three types) of wood, and you can put them together how you see fit.
If it's your first time, however, you may wonder how to proceed, so you can refer to the traditional patterns for inspiration. Deciding your pattern takes the most time. Once you are ready, it only takes about 10 minutes to glue the pieces together to make your coaster.
Just make sure you let the glue dry after you take your coaster home. Freshly crafted yosegi are fragile. If you want your coaster to stay clean, you can apply a clear varnish after you get home.
You can also buy two or three kits to make a beautiful potholder instead. If there are open seats, you can apply for the coaster-making workshop on the spot.
Address: 103 Hatajuku, Hakone-machi, Ashigarashimo-gun, Kanagawa Prefecture
Tel.: 0460-85-8170
Open: 9:00 – 16:30 (Last entry: 16:00)
Closed: Year-end and New Year's holiday only
Admission: Free (Workshops start at ¥800)
Access: 20-minute ride on the Hakone Tozan Bus bound for Hatajuku/Motohakone Port from Hakone-Yumoto Station, 3-minute walk from the Hatajuku bus stop. 30-minute drive from Hakone Honbako.
Official homepage: http://www.hatajyuku.net/home/guide.htm#寄木会館