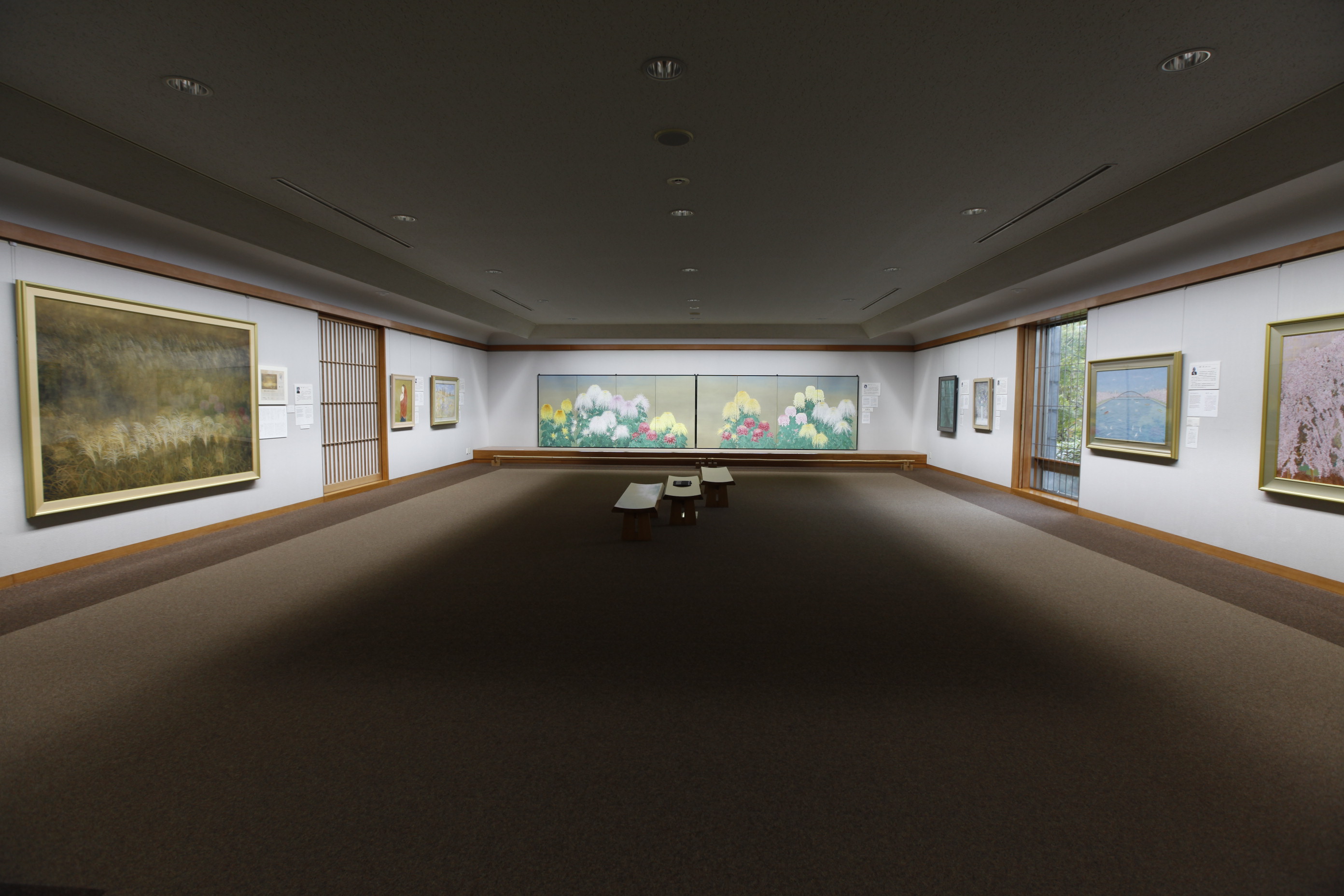 Narukawa Art Museum
The entrance of the Narukawa Art Museum is next to the big red torii gate in Motohakone.
The museum opened in 1988 with a mission to spread the word about the high caliber of Nihonga (contemporary Japanese painting), with a particular focus on postwar Nihonga.
The core of the collection consists of 150 paintings by Order of Culture recipient Kyujin Yamamoto and also includes works by other renowned Nihongo painters such as Ikuo Hirayama. Themed exhibits are curated from a total collection of more than 4,000 pieces.
What's more, the museum houses many works by promising artists who have yet to make a name for themselves, making for a truly unique collection that visitors can enjoy.
Recently, some museums have started creating areas where photography is permitted, but the Narukawa Art Museum allows photography throughout the whole building. Naturally, you cannot use the flash because it can deteriorate the paintings, but as long as you do not disturb the other visitors, you can take photographs for your personal use. You can also post them on social media.
The museum adopted this policy because it wants visitors to develop a kinship with the works.
Just remember your manners. (If people start breaking the rules, this policy could change.)
Enjoy tea with a view of Lake Ashi
One of Narukawa Art Museum's biggest draws is the scenery overlooking Lake Ashi from the Panorama Lounge and Kisetsufu Cafe.
If you live nearby, this view may be familiar.
That's because NHK has a weather camera positioned next to the cafe, and it uses the images on its weather broadcasts. Unfortunately, the weather was not cooperative when we visited, but we could see Hakone Shrine's torii gate in the lake and the leisure boats cruising back and forth.
On a clear day, you can see Mt. Fuji beyond the lake.
Kisetsufu Cafe serves tea with cake or a hot sandwich, so you can relax and enjoy some light refreshments along with the gorgeous views.
One thing many people don't realize is that the cafe's cups and bowls are made by actual artists.
For example, the green tea and seasonal Japanese sweets, which are made by a long-standing confectioner based in Odawara, are served in dishes made by the up-and-coming potter Atsushi Mikami. Meanwhile, the soft-serve ice cream (choose from vanilla, green tea, or red bean paste) and cold drinks are served in glasses crafted by the glassblower Yasuharu Ishii.
In peak season, the Motohakone area can be bustling, but remember you can always escape to Narukawa Art Museum for some quiet relaxation.
Address: 570 Motohakone, Hakone-machi, Ashigarashimo-gun, Kanagawa Prefecture
Tel.: 0460-83-6828
Open: 9:00 – 17:00 (Last entry: 16:30)
Closed: Never
Admission: Adults: ¥1,300
Access: 40-minute ride on the Hakone Tozan Bus bound for Motohakone Port from Hakone-Yumoto Station, 3-minute walk from the terminal bus stop. 25-minute drive from Hakone Honbako.
Official homepage: http://www.narukawamuseum.co.jp