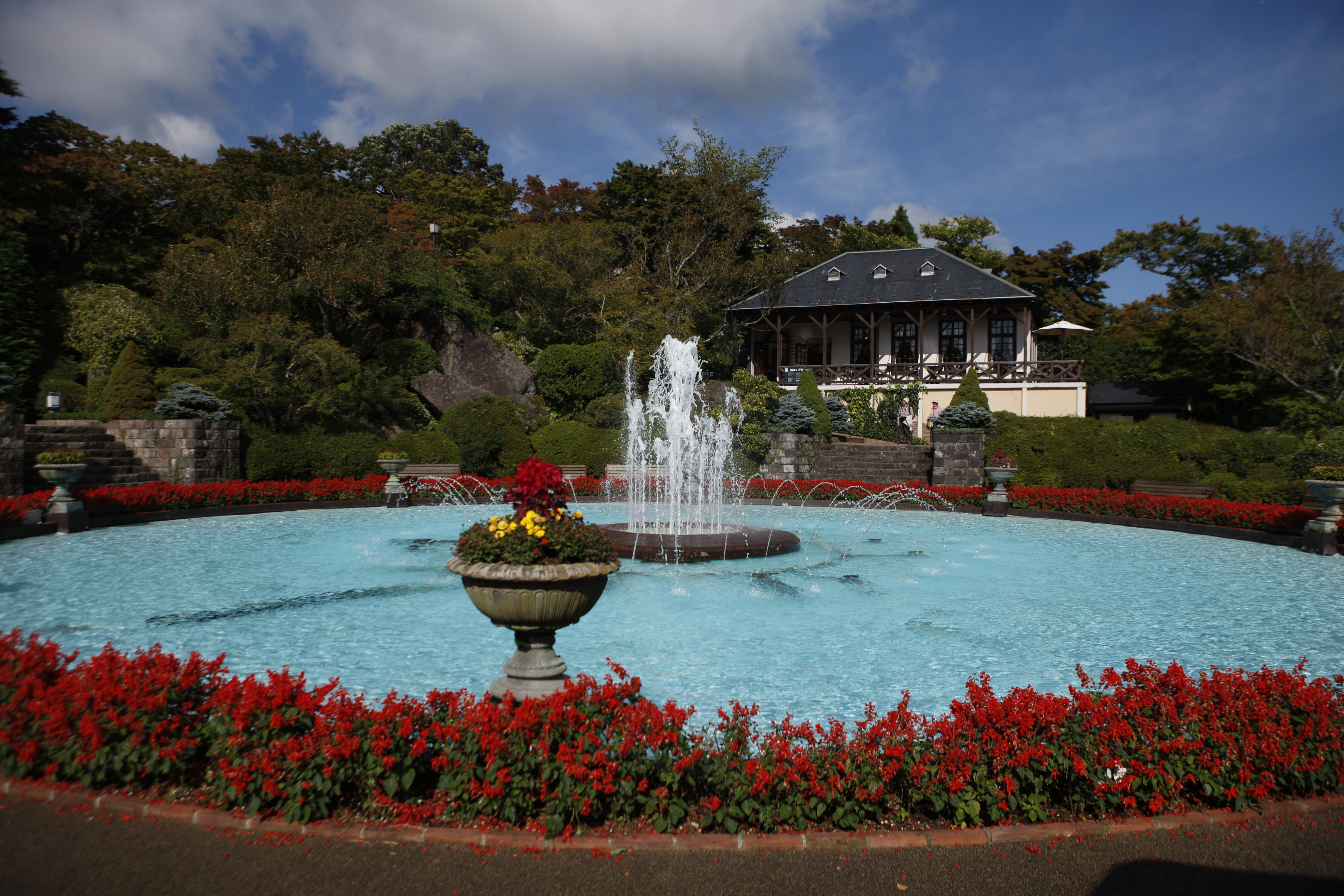 Hakone Gora Park
The development of Gora into a summer resort began in the Meiji era (1868 – 1912), and the neighborhood was planned around a central park—Hakone Gora Park—in the style of a European city.
It is well-known in Japan as the first park to adopt a geometrically symmetric French-style garden as its centerpiece.
That being said, most French gardens, like those at the Palace of Versailles, are on flat ground, but this site was originally a barren, rocky hillside. This is why there are many stairs and slopes in the park, as well as several boulders. The elevation difference between the main gain and the west gate is 40 meters, and some claim the western end of the park is even colder!
With a Rose Garden, Tropical Herb Pavilion, and Bougainvillea Pavilion inside the park, visitors can enjoy a variety of flowers in every season.
There are also two spots where you can enjoy lunch or afternoon tea. Isshikido Saro, which is housed in a unique hexagonal building next to the central fountain, is well-known for its sandwiches. Meanwhile, on the other side of the fountain sits Cafe Pic, which serves up curry, stew on toast, and other light meals.
Also, you won't want to miss Hakuun-do Tea Garden, a cluster of Japanese tea rooms nestled among the Western-style architecture. There are three tea rooms that were built in the early 20th century by wealthy businessmen and renowned tea masters.
Masuda Takashi, who founded the Mitsui Bussan trading company, was a major backer of Gora's development. As a tea ceremony master, he went by the name Masuda Don'o.
The president of Odawara Electric Railway (now Hakone Tozan Railway) presented Masuda with a piece of land in Gora park for his contributions to the development efforts, so Masuda built a bath house and a tea room here. The site was later bequeathed to the modern tea master Tomitaro Hara, who built his own tea room called Taiji-sai. After Hara died, the site was bequeathed to Yasuzaemon Matsunaga, a businessmen and tea master.
If you pay the ¥500 for the tea ceremony (which comes with sweets), you can also tour the three tea houses. This has become a popular attraction with foreign visitors looking for an authentic cultural experience.
The park is also home to Hakone Crafthouse, where you can participate in a variety of hands-on workshops, including glass bead-making, glass-blowing, and pottery. (Keep an eye out for a separate post about Hakone Crafthouse.)
With flowers, walking paths, tea rooms, craft-making workshops, and places to eat, you can easily spend more than half a day at Hakone Gora Park.
Address: 1300 Gora, Hakone-machi, Ashigarashimo-gun, Kanagawa Prefecture
Tel.: 0460-82-2825
Hours: 9:00 – 17:00
Closed: Never
Admission: Adults ¥550; elementary school students and under: Free
Access: One-minute walk from Kōen-Shimo Station or Kōen-Kami Station on the Hakone Tozan Cable Car. Five-minute walk from Gōra Station on the Hakone Tozan Cable Car. 15-minute walk from Hakone Honbako.
Parking: 43 spots / ¥300/hour
Official homepage: http://www.hakone-tozan.co.jp/gorapark/